What is Holobuilder?
A web-based platform that brings any construction site virtually available through 360º photographs.
What did Venga do for Holobuilder?
Full Brand Identity: logo, iconography, color study, communications manual and other branding applications.
Ever wonder what the steps are to create a logo?
Sometimes the complexity of a product/service can make it challenging for designers and brand developers to pin-point a single strength. Holobuilder is a great example of a complex, innovative company where the discovery phase was very important. These are three broad steps in the brand development process that we follow:
STEP 1: Define the company's core value.
Requires meetings with the client and getting to know the company better. Sometimes the core value may be very broad or vague.  In Holobuilder's case, we found that the merging of the physical and digital worlds was the overall most important concept.
STEP 2: Narrow it down, know the company's strengths.
Every company has strengths and weaknesses. What makes you better than your competition? With Holobuilder we were able to define 4 strengths: Fusion, Speed, Connectivity and Progress.

STEP 3: Gotta stand out.
Sometimes competitors might have a very similar product – This is where branding makes the difference. As brand developers, we have to make sure that our brands are unique while targeting the same market as your competitors. How?
Colors: Choose a color palette that fits the industry and the emotional effect you want to cause.
Smart design: Make people think
Iconic: Have a shape that after brand exposure, people will easily remember.
Typography: Choose a font that will be easy to read.

KEEP IN MIND: IS NOT ALWAYS AS EASY AS 1,2,3…
Being prepared to go through several rounds of editing and drastically changing design style and concepts is all part of the brand identity process. (See other concepts explored at the end of this post)
REPRESENTING 4 MAIN ASPECTS OF THE BRAND IN A SINGLE CONCEPT
COLOR STUDY


LOGO EVOLUTION

FINAL LOGO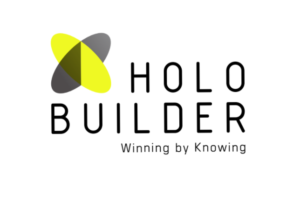 Other concepts explored along the process