It's been a fun journey along Tiny Mighty Labs!  Soooo excited to see the beginning-to-end marketing process in its final stage: Marketing!
Tiny Mighty Labs: A successful company that specializes in "tiny frames" for square prints. They offer 4 different designs individually and in packs and sell exclusively online.
Why REBRAND? Tiny Mighty Labs knew that the digital world is an extremely competitive industry and realized the value of branding their company as a way to put them ahead of the competition.
1. BRAND CURATION
New concept and feel.
Logo that will allow Tiny Mighty Labs to expand into different product industries.
Tiny Mighty FRAMES is only the first success and we can't wait to see what other products they bring in the future!
2. ART DIRECTION: Photography
Shot in studio in-house on a neutral backround.
This style and concept of product photography allows our creative team to play with the product and showcase it in different backgrounds, colors and even change the pictures in them.  This is an effective solution that helps future marketing campaigns  flexibility.
3. WEB DESIGN & DEVELOPMENT
Our client required a Shopify customized solution that would allow sales go through Amazon. The rebranded website works with different filters by collections, colors, sizes and packs. It is really user friendly and beautiful at the same time – the form and function balance that Venga Brands is always looking to achieve!
CHECK IT OUT: www.tinymightyframes.com
4. MARKETING: Social Media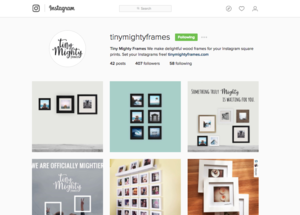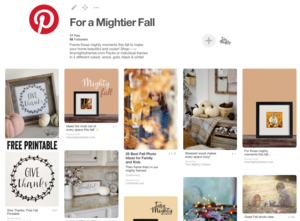 On-going. Now that we have built a brand from bottom to top, we are ready to market it on different social media platforms especifically Facebook, Instagram and Pinterest. Started with a customized newsletter and continues with social media campaigns.
Our community management team is really excited to work in this fun project and excited to let people know about TINY MIGHTY FRAMES!
Follow us here:
Pinterest: @tinymightyfrms    Facebook: @TinyMightyFrames
Instagram: @tinymightyframes